Windows Workflow is a part of the next-generation APIs from Microsoft collectively known as WinFX. WinFX also includes Windows Communication Foundation and Windows Presentation Foundation. From 50,000 feet away, WinWF consists of a visual workflow designer that plugs into Visual Studio, and a runtime to execute workflow instances.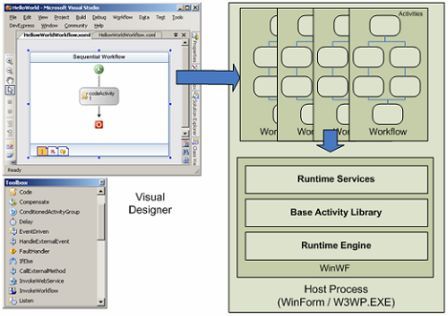 Here are some WinWF blogs I read:
Paul Andrew (technical PM)
Jon Flanders (a great collection of Biztalk and Workflow posts)
Dharma Shukla (architect)
Bayer White
Thomas Restrepro (covers a variety, including Biztalk and WinWF)
Moustafa Khalil (PM)
Dennis Pilarinos (PM)

WinWF also has a dedicated site: windowsworkflow.net, which downloads, samples, custom activities, and more.
Of course I like the following two articles:
Hello, Workflow
Authoring Workflows

If you know of some other WinWF resources, please share!