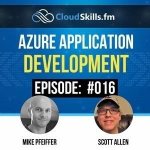 There's a new episode of the CLoudSkills.fm podcast available, and the episode features yours truly!
In this episode I talk with Scott Allen about building and running applications in the Azure cloud. Scott is a legendary software developer, conference speaker, trainer, and Pluralsight author.
I hope you enjoy the show.