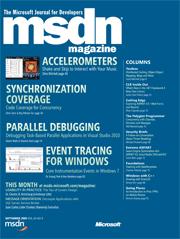 My latest article for MSDN Magazine appeared online and in print a few weeks ago. This article is about search engine optimization with the latest and soon-to-be released tools.
It wasn't so long ago that SEO experts would lambast the .NET platform as poor choice of technology for SEO work, but much has changed just in the last year. While working on the article I exchanged some emails with Carlos Aguilar Mares, who sold me on features in the SEO Toolkit and the URL Rewrite extensions for IIS. The SEO toolkit will crawl your site and warn you about things the search engines don't like to see - like bad redirects, missing ALT attributes, broken hyperlinks, and multiple canonical formats. You can use the toolkit to manage robots and sitemap files, and even find malware on your site. The URL Rewrite module can give you optimized and friendly URLs without giving up the performance benefits of kernel mode caching.
Things get even better next year with some of the features the ASP.NET and Visual Studio teams have in store. Read the article for more details.