During the last week of August I was in Stockholm, Sweden to deliver two of the twelve workshops at Øredev's Progressive .NET Days. The workshops were split across 3 tracks and covered  prevailing software development topics like NHibernate, DDD, DSLs, Git, and dynamic languages. Based on the feedback I've heard, the workshops were considered a success by everyone who participated. But, what left a lasting impression on me was the unbounded hospitality of the event organizers, attendees, and Stockholm itself.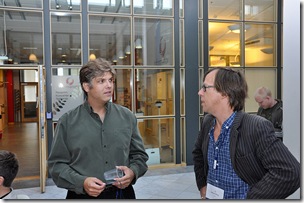 On the first evening that I ever spent in Stockholm I was greeted by Michael Tiberg, the CEO of Oredev. We strolled across modern roads into the medieval, cobblestoned streets of Old Town Stockholm – Gamla stan. Michael was my personal tour guide and pointed out sites. I saw Stockholm City Hall - a stalwart building made of red brick and home to Nobel Prize ceremonies and banquets. I also saw the rounded backside of the Swedish Parliament building, and facades of the Stockholm Palace.
Michael didn't know I was a fan of Jazz music when we entered Stampen that evening. In the 17th century, this building was a French Reform church, but since 1968 it's been a jazz pub. The vocalist of the 5 piece band playing that evening would belt out jazz classics in English, then banter with the growing crowd in Swedish. The last song we heard before leaving was Billie Holiday's God Bless The Child – a personal favorite.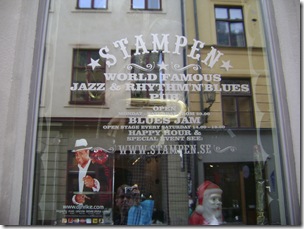 Within a day I decided that Stockholm is a quiet city, but quiet isn't the same as sleepy, or empty. People are everywhere in downtown Stockholm. Commuters wheel past in the dedicated bike lanes and swarm into metro openings. Taxis and tourist buses jockey politely for curb space. But something was audibly missing - the insecure blustering I'm so accustomed to hearing in the metro areas of the Northeast United States – no horns blowing, no people shouting, no music blaring. In Stockholm, even the sidewalk hawkers stand quietly on the corner wearing sandwich board signs to advertise lunch specials.
The quiet in the city gives you the chance to hear people laugh. They laugh as they talk on cell phones, and they laugh in crowds under the open awnings of cafes. The Swedes I met paint  themselves as reserved, and present themselves as self-assured and happy.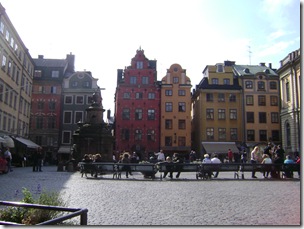 I took home many fond memories from Stockholm, including a trip to an Ice Bar (thanks Magnus), and some great technical discussions with other speakers and attendees. The last evening I spent chatting and dining with guys from Nansen – a local and fast growing web development firm. We talked about software development, health care, politics (I met at least two members of the Swedish Pirate Party during the week), religion, the size of American cars, and XBOX games. I hope to return one day and experience more of Stockholm, and I'm already looking forward to the main Øredev conference this fall in Malmö.