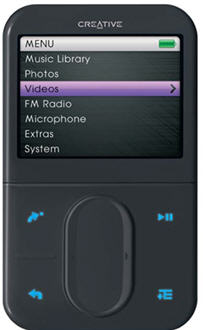 I'm the owner of a new 30GB Zen Vision:M. The Vision:M is a portable media center and plays both MP3s and videos. The unit currently retails between $269 and $299.
The 320x240 2.5'' LCD display looks remarkably good, even with the brightness setting at 50%. The Vision:M is a bit thicker and heavier compared to its iCompetitor, but has more color (262k versus 65k), and supports more file formats (DivX, XviD, MPEG 1/2/4, and WMV all play). I'll take function over form. The rechargeable Li-Ion battery lasted over 10 hours on a mix of video and audio (mostly audio).
I did not install the bundled software. Windows Media Player 10 recognized the device and synchronized content without any fuss. I've synched music, TV shows from a Media Center, and movies in WMV and DivX format. Of course, not everything you can record with Media Center will synch with an external device, thanks to the pinheads at the MPAA.
The only problem I've had is with an MSDN web cast. It seems there is an extra stream in the web casts and the stream confuses WMP. Fortunately, Marauderz M2PMCEncoderZX converts the MSDN file, and adds some additional options for anyone who is unhappy with the default conversion settings WMP uses for portable media centers.
The Vision:M synchronizes and charges through a USB connection, but requires a small dongle to adapt the USB connector to the unit itself. A full USB re-charging takes about 4 hours. The dongle includes connections for a charging with a DC adapter, and an A/V out. Creative made life more difficult (and more expensive) by not using a standard camcorder pinout for the 3.5mm AV jack. A little bit of splicing can work around this problem.
A touch pad on the front scrolls through menus. It can take some time to become accustomed to the touchpad, but the sensitivity is adjustable. The Vision:M also includes a microphone and FM stereo receiver (but no line input). A PIM is included that will sych with Outlook, although I haven't tried this feature (it requires an install of the bundled software, which I've have not tried).
Overall, thumbs up for the Creative Zen Vision:M.