If you've spent time with VS 2005, you've probably met the Exception Assistant.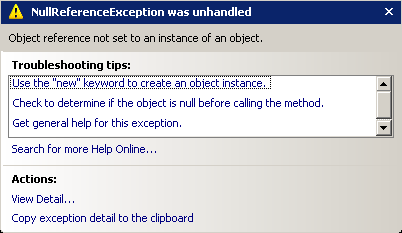 Reading the tips for a common exception is a bit like calling the cable company when your broadband connection is down.
"Sir, is the cable connected to the modem? Are there any green lights blinky-blinking?
Ok, sir.
Sir, I'm going to need you to power down your computer, your modem, your cell phone, and your microwave oven…. "
The "View detail" link is useful, as it lets you drill into all the properties of an exception.
The tips appear to be extensible. You can drop an XML file into the correct ExceptionAssistantContent directory (under Visual Studio 8\Common7\IDE) to provide helpful troubleshooting tips for your own exception types…
… or you can repurpose the existing DefaultContent.xml file to torture your co-workers…